Who should I contact if I need order assistance?
Your satisfaction is important to us. If you have any questions about your order, please
email Customer Service
for further assistance.
Do I have to have an account to order?
You don't need to have an account to place an online order, but it's a good idea! It allows us to contact you if there is a problem processing your order and allows you to view your order status online. Best of all, registering is easy and free!
Why should I sign up and become a member?
If you become a member, you will be able to store your billing address, multiple shipping addresses, and check your order status any time you'd like!
Whether you're buying something for yourself or a gift for someone else, ordering is quick and easy. Add at least one item to your shopping cart and then go to checkout. During the checkout process you can select shipping options, enter payment information, and add billing and shipping addresses. You can also review your order before it's final, and make changes to the color, size, or quantity of the item.
What do I do if I receive an error page while placing my order?
If an error message has occurred on the page, please wait a few minutes and try reloading the page. You can also try clearing your browser history, cache, and cookies, and try again.
How do I know that my order went through?
Before closing your browser, please print or screenshot the confirmation page for your records. You will also receive an order confirmation email that contains your order number and details. Once your order has shipped, we'll send you a shipping confirmation email with tracking information.
What payment methods do you accept?
We accept VISA, MasterCard, American Express, Discover, PayPal, Apple Pay, ATM/Debit Cards with a VISA or MasterCard logo,
rue21 REWARDS Credit Card
, rue21 Gift Cards, and rue21 Merchandise Credit Cards. Sorry, we do not accept personal checks, travelers' checks, cashier's checks, money orders, mall gift certificates, COD, or Cash for online purchases.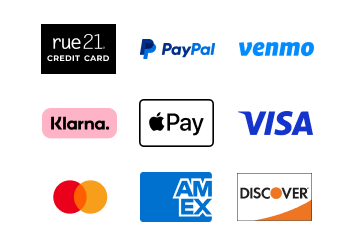 When will my credit card be charged?
rue21 does not charge you for your order until your merchandise ships. Orders placed with a credit card may see a pre-authorization hold immediately after hitting "Submit". This is typically held by your financial institution in anticipation of rue21 shipping your order. rue21 will settle on the hold when your merchandise ships. If your order was canceled, the pre-authorization hold typically falls off in 3-5 business days but can vary by financial institution.
Do I have to pay taxes on my purchase?
Yes, sales tax is calculated according to the state and county tax laws in which the order is being shipped. The tax calculator shown online is only a quote. There are situations where this quote will differ from the total charged. Once your order is finalized, the sales tax will be recalculated based on city, state, county, and district tax rates.
When will I receive my order?
Orders are processed Monday to Friday. Orders are not processed or shipped on weekends or holidays. Shipping times are as follows:
Standard delivery arrives in 7-10 Business Days
Second-Day delivery arrives in 2 Business Days*
Next-Day delivery arrives in 1 Business Day*
*Priority Shipping orders placed by 1:00 PM ET will be processed same day.
Why was my order canceled or delayed?
Orders can be canceled due to the following:
• Items are unavailable.
• Difficulty in processing your payment information.
• Inability to ship to the address provided.
Please feel free to email Customer Service for further assistance with a canceled order.
What happens if a product is canceled on my order?
If an item is canceled from your order, it means the item is sold out. rue21 does not charge you for your order until your merchandise ships. Orders with canceled item(s) could result in a pre-authorization hold from your financial institution for the original order amount. When your order ships, rue21 will adjust the charge for the lower amount to reflect the cancellation. Please contact your financial institution for more information.
Keep checking the site often since we add new items almost every day!
Why haven't I received an email regarding my order?
Below outlines the reasons why you are not receiving email notifications:
You may have an outdated email address on file.
Your email was entered incorrectly when placing your order.
You may have a spam blocker filtering out emails from our system.
If you have a Gmail account, rue21 emails may be filtered to the Promotions folder.
Make sure to keep your user information current by updating your email address. Also, try turning off any spam blockers that may be preventing our messages from getting to you.
Can I cancel my order after I clicked "Submit"?
Oh no! Our goal is to fill orders quickly, so we can't change or cancel an order after it is placed. You can return the item(s) to us as long as it meets our return policy.
Once your order ships, you will receive a shipping confirmation email. This email contains the carrier's tracking number for your order and a link to the carrier's website. You can track the status of your shipment by entering the tracking number into the appropriate field.
Why doesn't the carrier's website recognize the tracking number for an order I placed?
Your tracking number won't be recognized until approximately 24 hours after your order has shipped. This is the time needed for their online tracking system to update. Try tracking your package again the following day and follow it to your front door!
Why am I seeing charges on my account when my order did not process or was canceled?
You are seeing a pre-authorization pending hold on your statement. rue21 does not charge you for your order until your merchandise ships. Orders that have been canceled could still result in a pre-authorization hold. This will be removed by your financial institution approximately 3-5 business days (Monday - Friday). Please contact your financial institution for more information.
Why do I see a charge on my account before my items are shipped?
You are seeing a pre-authorization pending hold on your statement. This was created when you attempted to place your order. Your account holder temporarily "reserved" the funds to process your order. Please note that you will be charged as soon as your order has shipped. Your pending charge will then move to settlement status on your account.
How many items can I purchase at one time?
You can order up to 299 items per online order.